1.
This quest starts at
Gludin
. Once there, make your way to the west entrance, and talk to Captain Bezique, who will give you a letter to deliver.
2.
Take the letter to
Neti
, who's on the north half of town. She'll give you
Neti's Bow
and
Neti's Dagger
. You can only use these two weapons for the entire quest, and they are very weak in my opinion, so you can either suffer through it, or spend a little more money on
soulshots
.
3.
Head over to the
Ruins of Agony
, and kill Spartoi until you get 10 bones.
4.
Go back to
Neti
for a
Horseshoe of Light
.
5.
Go to
Captain Bezique
who tells you about some stolen items that you need to retrieve. He'll also give you a Wanted Bill.
Hunt Cat's Eye Bandits to retrieve the stolen items, a necklace, tomes, jewelry, and a ring. If you walk to
Gludio
from
Gludin
, you'll see them alongside the road, near
Abandoned Camp
.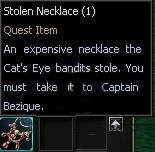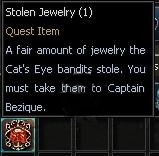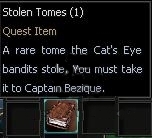 6.
Once done, talk to
Captain Bezique
again, and he'll give you a recommendation. Talk to
Grandmaster Ramos
, and give him the recommendation. If you're at least level 20, you'll become a Human Rogue.